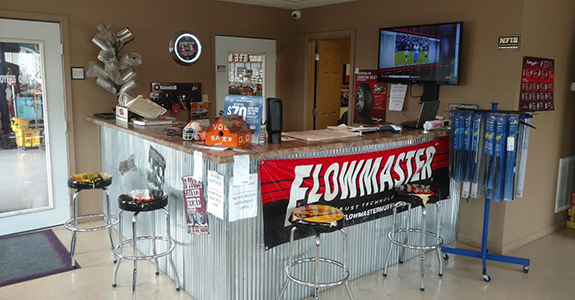 Custom Exhaust & More
Your vehicle's exhaust system is one of its most critical components. Not only is it responsible for keeping your emissions in check, it's also critical to your vehicle's fuel economy and performance. When problems arise with your exhaust system, they're bound to affect the rest of your auto.
Reagan's Supreme Muffler is here to be your complete solution to exhaust and muffler issues when they arise, and we're proud to be an authority on delivering unparalleled muffler repair in Milan, Gibson, Humboldt, Dresden, or Jackson, TN. Some of the critical services we're pleased to offer include:

Muffler services: Whether you're reeling after a failed emissions test or you're sick and tired of sounding like a racecar as you speed down the road, we're here to offer you critical muffler services that set your exhaust system right.
Muffler repair: Broken muffler? Loud muffler? Missing muffler? These common problems are easily addressed by our experienced team! We'll set your muffler situation right and ensure it stays that way.
Exhaust repair: Is your "check engine" light on? Have you noticed a dip in your fuel economy? You might need exhaust repair in Milan, TN! Problems with your oxygen sensor or catalytic converter can yield unseen issues that have a noticeable impact on your vehicle's performance.
Custom exhaust: If you're looking to add some growl to your ride or want to streamline the façade of your custom car, consider custom exhaust. We're happy to consult with you in creating a custom exhaust solution.
Catalytic converters: If you've failed emissions or you're constantly dealing with an indicator light on your dashboard, you might need a new catalytic converter. We're happy to help you assess your situation and can install a brand new converter based on your needs.
When your muffler or exhaust system in on the fritz or needs attention, don't just choose any shop in Milan, TN: come to the experts at Reagan's Supreme Muffler. We're fully prepared to assess and resolve your troubles, providing you with customized service and high-quality workmanship.
For more information about our capabilities or to inquire about your unique muffler or brake repair needs, contact us today at 731-686-1640.