Exhaust Shop in Milan, TN
Since 2011, Reagan's Supreme Muffler has been the go-to exhaust shop for motorists in Milan, Gibson, Humboldt, Dresden, and Jackson, TN and surrounding areas. We pride ourselves in always providing honest, professional work to keep you and your vehicle safe and sound on the road. Come to us for exhaust, tires, brakes, shocks, hitches, tune-ups, belts and hoses, oil changes and more!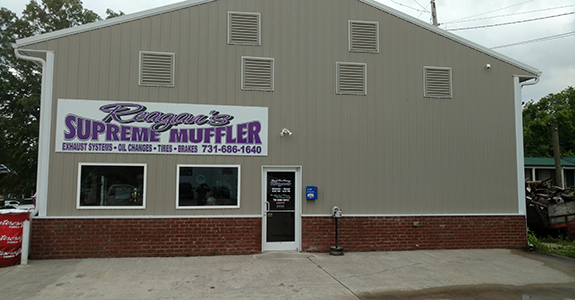 Your Muffler Shop & Tire Shop
When your vehicle starts to sound like a racecar or the "check engine" light on your dash starts yelling at you, there are numerous muffler shops in Milan, TN that you could go to for service. If you want personable service, talented technicians and a solution that specifically addresses the needs of your unique vehicle, however, the only destination for you is Reagan's Supreme Muffler! As the local, leading experts on all things exhaust, muffler, brake and tire, we're here to provide you with top-level services that keep your vehicle in peak functional condition. Whether it's a simple fix—like outfitting you with a new muffler—or it's a more invasive repair—such as replacing your oxygen sensor and catalytic converter—know that our exhaust and tire shop is ready to tackle the job.
We're also your foremost source for routine maintenance services. From oil changes to brake replacements and beyond, our goal is always to help keep your vehicle in the best condition possible. We even stock a wide selection of high-quality tires and perform a full gamut of tire services in–house, covering yet another important aspect of your vehicle! With professionals who are truly knowledgeable and an entire shop of resources at our disposal, you can expect nothing short of perfection when your vehicle rolls out of our garage. Take a look at just a few more reasons our customers are customers for life, then contact us today:
We're pleased to be able to service just about any make, model or year!
We're a family-owned and –operated muffler shop!
We carry a wide assortment of top-quality tires in-house, for quick replacements.
We stock a complete inventory of auto parts for your convenience.
We're pleased to offer military discounts to active duty service members.
---
Areas Served
Proud exhaust and tire shop serving motorists and drivers in the following areas:
Dresden, TN
Gibson, TN
Humboldt, TN
Jackson, TN
Martin, TN
Sharon, TN
Huntingdon, TN
McKenzie, TN
Paris, TN
Medina, TN
Milan, TN
Trenton, TN
Union City, TN
Camden, TN
Madison County, TN
Carroll County, TN
Gibson County, TN